Republished from the Brandon Sun print edition May 14, 2016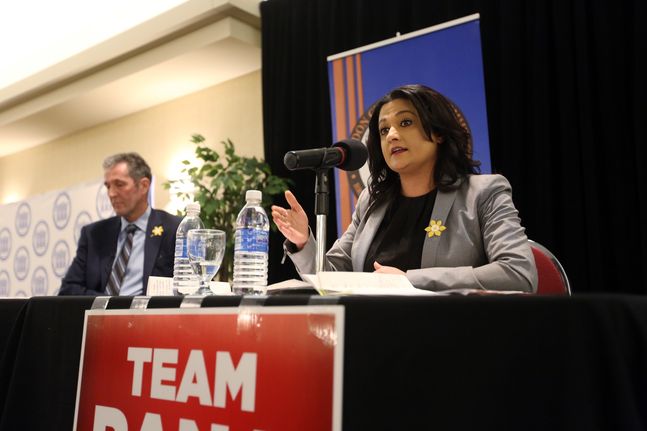 For the Manitoba Liberals, 2016 will clearly go down as a case of "what could have been."
The final nail in the post-election coffin struck this past week with a rather low-key announcement that leader Rana Bokhari would be calling it quits after a little more than two years and one election at the helm of the beleaguered party.
Bokhari's time at the top was a tale of two leaders having weathered both highs and lows throughout her short tenure. She saw her party through a high that could have catapulted the Liberals out of obscurity and into a power position opposite the current Tory mega-government. And she definitely saw the lows like the very public disqualification of half a dozen candidates hours before the Elections Manitoba deadline for the April election. Basically, her decision to step down puts an end to a couple of tough years for the rookie leader.
Bokhari's impending departure again shifts the landscape of politics in this province, and although not in the legislature, Manitobans will lose a voice to challenge the Brian Pallister Tories. It also forces the cash-strapped Liberals to begin the process of soul-searching and financial juggling to figure out how to equip themselves with a new leader, one hopefully better prepared for the next election.
Bokhari does shoulder some of the blame for her party's demise, but she alone should not wear the yoke. The public structure of the Manitoba Liberals has been in shambles for some time, with a revolving door of staff and directors, and a shaky financial structure has to have drained their bank accounts after paying a non-elected leader a very meagre salary for the past two-and-a-half years.
The result? Well, it is clearly gut-check time for the Grits and a watershed moment for the Liberal movement in this province. From a grassroots standpoint, the party has clearly made gains, and with three elected MLAs they have some real and tangible positives to build upon. But electing leadership can be a minefield to navigate if not done right.
First things first, whomever the Liberals chose as their next leader, they need to do everything in their power to prepare that person for the first byelection to come their way. That byelection could strangely enough come in Greg Selinger's St. Boniface constituency. Conventional wisdom says the former premier will retire prior to completing his term, as resigning party leaders often do.
The Liberals must pour it all into that byelection (should it happen) in the hopes to put their leader into the legislature. The all or nothing gamble could bring their seat count to four and the party back to official status, creating an opportunity to offset costs associated with the leadership salary.
Second, the party could use a bit of rebranding to shake the obscurity that has hampered their image for the last decade. Cosying up with their federal counterparts would go a long way towards that. By no means should the party be Trudeau Jr. in Manitoba, but it should at least consider little things like dumping the Manitoba tag in their name to further associate them with the success of the federal party. They, like their NDP counterparts, could use an image shakeup as they look to move past their trouncing last month.
What all this instability does is position the Tories to have an absolute field day in the legislature for the foreseeable future.
The NDP is clearly in transition, with the soft-spoken Flor Marcelino serving as interim leader, while the Liberals will have three members, none the face of the party in the legislature.
Marcelino even went to the extent of stating she is "not a good debater" and couldn't remember responding to a single question during her previous term.
Couple that with a rudderless Liberal brand in Manitoba and Pallister will be more than eager to get going as he stands to have little to no challenge to his mandate.
As she reflects, Bokhari will no doubt chalk this up to a troubling set of circumstances, and a few major gaffes that led to her demise. It is unfortunate for her and Manitobans alike as she did provide plenty of possibility for her party, she brought an energy to her approach and was fairly strong at her unique style of grassroots politics.
Sadly, though, in Bokhari's case her "best before" date may have been cast by a dysfunctional party well before the announcement came last Saturday that she was calling it a career.