Republished from the Brandon Sun print edition August 14, 2015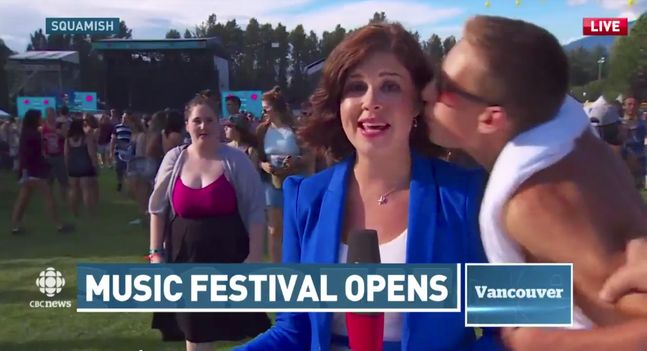 Some saw it as an innocent peck on the cheek. Others viewed it as assault — and plenty were in the vast grey area that exists in between.
No matter how a person viewed this past week's kiss on the cheek of CBC reporter Megan Batchelor by a young festivalgoer, the resulting outcome stands as a cause for concern.
Interestingly enough, not so much for the kiss itself as the young perpetrator has since apologized for his actions, but for what could only be considered as the repugnant world some live in through their comments and hurtful speech directed at a professional just trying to complete her job to the best of her abilities.
Before I delve too deeply into this, I must disclose that Batchelor and I are former colleagues at the now-defunct CKX television. She served as both a reporter in the field, as well as an anchor for a few years before the station eventually folded in 2009. I always knew Megan to be a consummate professional and that demeanour seems to have stuck with her through her time in both Winnipeg and now Vancouver.
I know first-hand, mostly from being on the other side of the camera, the pressure reporters are put under while out in the field. Working on location is often unpredictable and can present itself with a variety of problems. The profession is very fluid and constantly changing.
As well, sometimes for better or worse, reporters are at the whim of the public — and much like a politician, they must keep a brave face when things don't go quite according to plan.
That brave face is exactly what we saw exhibited by Batchelor in the now widely circulated video from the Squamish Music Festival last week.
Her initial reaction to the incident was just what reporters are trained to do — maintain your composure, finish the piece and carry on.
The underlying issue, however, is what happens after the fact. More and more women in the profession have been hampered with degrading comments and the vile FHRITP phenomenon, just to name a few.
To live in the spotlight does open a person up to public scrutiny, but the online backlash is another example of a line that was crossed. We have gone past worrying about the actions themselves, which often could have easily been considered assault, rather focusing on the reaction many took to a professional woman taking a stand for her own personal space.
For anyone who believed she overreacted, take a moment to put yourself in her shoes. If someone approached you, your spouse or even worse, a teenage child at their place of work, and did something inappropriate, most people's resulting actions would be fairly similar.
It is tremendously disappointing to have witnessed the Internet trolling that continued to dog Batchelor in the days that followed the event. Comments clearly crossed the line, and by the middle of the week, showed little sign of letting up.
Some of the posts ranged from attacks on her appearance and her on-air performance to her approach to journalism and her "overreaction" to the situation. Now remember, all of these came as a result of a person choosing to maintain her own personal space and act in a professional manner.
However small the minds of those trolling Batchelor online, there may be a silver lining that comes out of a situation like this. The teen who was responsible for the initial action came forward to apologize. Whether it was prompted by the outcry or not we may never know completely, but the attention this story garnered surely must have had an effect.
It was a childish mistake made by a child and something that hopefully will stand as a lesson to others seeking to invade someone else's space.
Kudos to the young man for coming forward and owning his actions — and more importantly to Batchelor for allowing it to be the lesson it needed to be.
This was not one woman's attempt to seek her 15 minutes of fame or time in the spotlight; and the subsequent police report should not be considered as a news agency looking to gain mileage off the story.
That certainly does happen and is the nature of the business in many corners of media, but often the "bleed to lead" headlines don't contribute anything of real substance to the conversation.
What this was is a vivid example of how many of those people hiding behind a keyboard need to strive to do better by offering something of real value to our society.