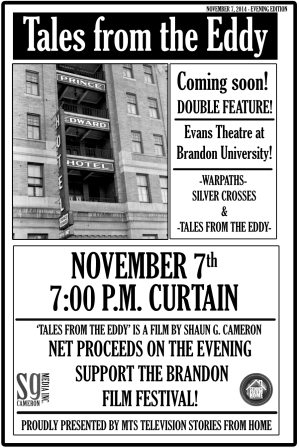 Very excited to announce the premiere of my latest film Tales from the Eddy at the Evans Theatre next Friday November 7, 2014 in conjunction with my good friend Graham Street's premiere of his film Warpaths- Silver Crosses. Hope to see you there!
A bit about the film:
Tales from the Eddy looks back at a golden era for the City of Brandon. Through first hand accounts from former staff journey back to a bygone day when the Prince Edward Hotel was the cornerstone and heartbeat of this community. This film endeavours to provide a connection point to our past through stories about our lost historic structure, and but for a short time returns us to the glamour and lights that bred the optimism that was Brandon back in the day. 
Film-maker Shaun Cameron is a veteran of both stage and screen in Brandon and is pleased to be working with MTS Television Stories From Home in bringing this film to the community. The film-maker will be onsite to answer any questions regarding the piece following the premiere.