Republished from the Brandon Sun print edition May 24, 2014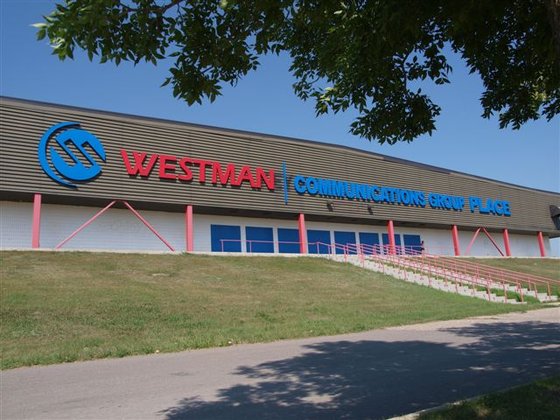 It wasn't really the outcome GM Neil Thomson and the crew at the Keystone Centre were hoping for when they revealed the fact they did not receive any submissions for naming rights on a couple of Keystone Centre properties last week.
Unlike the main arena, formally dubbed Westman Communications Group Place, the Optimist and Kinsmen arenas failed to attract the attention they were seeking in trying to bring the Keystone closer to a money-making venture, while bringing another couple of businesses "under the tent" so to speak.
The loss of this opportunity prompted me to jump onto Twitter to share my thoughts on the idea of naming rights for entities with civic ties. As well, it allowed me the chance to playfully spar a bit with a couple of local Twitter handles, including Brandon Sun web guru Grant Hamilton and the conglomerate that is @WestmanNewDemocrat. The discussion of the day — debating the merits and or lack thereof regarding sponsorship, and moreover private sponsorship in public entities like the Keystone or parks and recreation facilities in the community.
In fairness to those sharing their thoughts on social media, I will not divulge where some stood on the issue, but undoubtedly some tech-savvy folks could find the discussion with ease.
The idea of sponsorship is really a tough call, especially when considering civic-owned entities. It is even more difficult when you take into account the idea of philanthropic giving versus sweat equity and volunteer hours going towards a cause like a park, community centre or as mentioned before the Keystone, an entity with an element of public funds involved in the operation of it on a daily basis.
All Keystone talk aside, the crux of the discussion was to look at the idea of sponsorship for solely civic-run entities like parks or recreation services. In times of fiscal belt tightening, cities need to diversify their revenue streams where they can or entities like parks, community centres and the like may become difficult to maintain long term.
Take, for example, the happenings in one of the biggest cities out there. New York City has gone to great length to seek out sponsorship for many elements of its park system, including trails, facilities, events and in some smaller cases the parks themselves. Civic leaders identified that if they were going to keep the space beautiful and manage obligations, a new plan was needed.
Although some would venture to think otherwise, it really doesn't appear to cheapen the experience of the park itself and in many cases may actually improve it as civic coffers have enough through taxes and sponsorship revenue to operate parks and community entities to their fullest potential.
Brandon is definitely not New York. But when you look at the last couple of civic budgets, recreation has amounted to approximately 10 per cent of overall spending, or roughly $190 per household on a nearly $1,800 tax bill (based on a house worth $200,000).
This money includes the operation of civic entities like parks, YMCA contributions, the Sportsplex, the Western Manitoba Centennial Auditorium and other civic-run recreation establishments.
If the city were to even cut in half that dollar amount through sponsorship opportunities, it would better align a thinly stretched budget to have the leeway to shift funds elsewhere, such as airport upgrades, further road enhancements or some of the infrastructure needs high on the list and pressing hard on this community.
If that means that the Sportsplex were to become the Coca-Cola Bottling Community Sportsplex, for example, or the Western Manitoba Centennial Auditorium took the name of one of Brandon's bigger business entities, it seems the synergies would make sense. It would allow businesses another outlet to support the community and gain recognition, while giving the city some much-needed dough to fund upgrades in a park or facility.
This is not meant to diminish the role of volunteers or those who serve through sweat equity; it merely serves to further align the city with another opportunity to keep this community affordable while accessible to all.
I realize some out there will undoubtedly disagree with this logic and feel the nature of these entities are in their purest form without sponsorship. But at the end of the day, given the option of a closed complex or a sponsored complex, I would take the latter every time.
If this means we have to wade through a couple of signs or a thank you plaque at the entrance to a facility, then this seems a small price to pay for many more years of enjoyment.