Republished from the Brandon Sun print edition December 4, 2015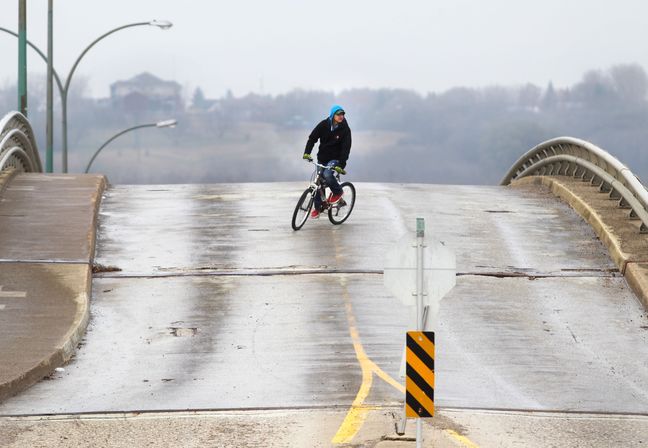 Brandon City Council has a monumental decision on its hands — what to do with the Eighth Street bridge.
The bridge's fate has been batted around this community for a number of years and in the past couple, has made an appearance or two in this column.
Supporters of the aging structure have now compiled a petition garnering thousands of names, attended forums hosted by the city and even took their cause online through a somewhat satirical Twitter handle (@8th_St_Bridge) documenting the plight of the aging overpass.
A couple of weeks back, council shared a number of options on how to deal with their proverbial elephant of infrastructure. The three main proposals include outright demolition of the bridge at a tally close to $2.3 million, Band-Aid fixes that total
$1.325 million with three- to five-year lifespan extensions, or outright rebuilding to the tune of nearly $35 million.
None of the three addressed the obvious — a need to look at safe options for relocation of the railways.
Premier Greg Selinger used that very argument in Winnipeg recently to score some political points and further a longtime pet project of his. A relocation there would be an effective alternative to rebuilding a number of inner-city rail bridges and traffic-clogging crossings while furthering infill development in the process — a win-win from the community's perspective.
It is a lofty goal and a bit of a Hail Mary pass, as many believe it is one of the government's emptiest promises on record.
But this idea, at least, has some merit.
The Arlington Bridge in Winnipeg was scheduled for demolition by 2020 with a new structure slated to take its place, providing a connection between the city's downtown and its north end. The 102-year-old structure is a major causeway over the CPR yards, but is known for its steep incline and advanced level of deterioration, and is often limited to light vehicle traffic only.
If all this sounds vaguely familiar, it should.
Relocation of the railways in this city serves more than one purpose, however. As former Rosser Ward councillor and current Sokol Manor executive director Corey Roberts pointed out in The Brandon Sun this past week, there is an inherent public safety issue involved with emergency vehicles having to double back over the 18th Street bridge to transport north end patients to the Brandon Regional Health Centre for emergency care.
Much like anyone who lives south of the tracks that cut the city in half near the hospital, you had better not be in an emergency situation as you may wait upwards of 20 minutes to cross at certain times of day.
Perhaps the Selinger team could ask their little brother to the West to be a pilot project for their game of train yard Jenga. In our city's case, there is usable infill land along the entire corridor between downtown and the north end — land that could be put to use if the deal was right and the vision was there.
Furthermore, if the subsequent crossing could be levelled or even multiplied to alleviate traffic coming from the north, it would serve to benefit the city as an economic driver for the downtown, effectively filtering more traffic into the core area.
At the time of the open house on the fate of the Eighth Street bridge, Brandon Mayor Rick Chrest said the city has reached out to the railways about a plan, but said the chances of it moving forward would be, at the very least, a "tall order."
Many years ago, rail companies made a deal with communities throughout the West to be the artery for any given centre with access and easements abounding. It may now be time that cities like ours call in that debt by respectfully pushing to have rail companies pony up to the table with an offer to work on a mutually beneficial solution.
We need to move past seeking answers that are merely "good enough" to get by. It is clearly detrimental to our perception as a vibrant, growing centre to continually work from the mindset that municipalities shouldn't spend money to grow or maintain their infrastructure.
A forward-thinking bridge plan where we don't merely opt for the cheap route or quick fix could be an instance where Brandon gets it right. Let's make an example out of the bridge — not as the time the city effectively abandoned itself, but the one where we took the opportunity to exercise that vision we so often tout but don't always adhere to.