Republished from the Brandon Sun print edition February 14, 2015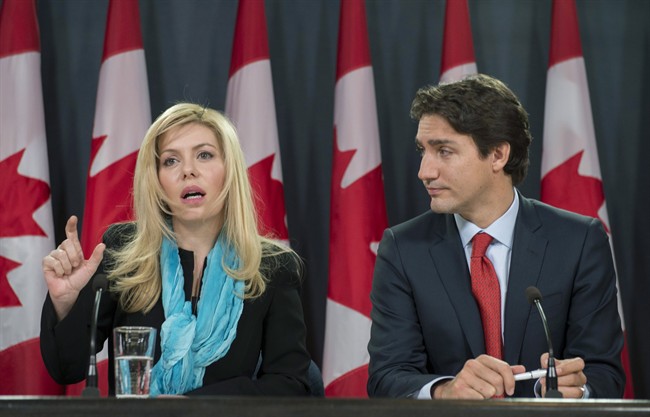 Eve Adams sure knows how to make a splash.
In a whirlwind, she has gone from a tarnished MP in the ranks of Stephen Harper's Conservatives to the shiniest new member of Team Trudeau and the Liberal Party of Canada.
The storm that was created by her departure from the Tory benches was felt throughout the Canadian political system and sent reporters into a tizzy on Parliament Hill as the defection became official Monday.
As Adams sat side by side with Liberal Leader Justin Trudeau, she spoke of it being a "bittersweet day" and "difficult" to be in front of the gathered reporters, officially leaving a party she had essentially grown up with, a party she served as a page with before entering public life.
So with the flash of camera bulbs and a quickly evolving website, Adams took to the public eye to change stripes, something new to her political life.
She comes to the Liberal party sporting more than her fair share of baggage, but also holding a couple of aces that she and the Liberals hope will get her elected in a Toronto riding and push Finance Minister Joe Oliver from office following the election.
To begin, here are some of the positives.
Adams is electable. She has shown the ability to secure wins in elections at a couple of levels of government. She has served as parliamentary secretary for high-profile portfolios such as health and veterans affairs, and she and her fiancé, Dmitri Soudas, have spent plenty of time as insiders with the Conservative party. This will be invaluable to her newfound friends across the floor in the House of Commons.
As for the negatives, Adams is a lightning rod for controversy. She was essentially excommunicated from the Conservatives for a nomination scandal in which she had been asked to leave following improprieties in the nomination process.
She is also knee deep in political mud for some poor choices made when dealing with people in the service sector, namely an argument captured on camera following what she believed was a subpar car wash.
In January, Adams was informed that in the upcoming federal election, she would not be allowed to seek the Conservative nomination in her riding of Mississauga Brampton-South, effectively ending her career with the ruling party.
This likely was where the Conservatives believed the story was to end — Adams would go quietly "into the night." What they didn't count on was the Trudeau-led Liberals coming forward to offer Adams — and to a lesser extent, Soudas — a spot in the inner circle of Canada's third party, a home ahead of the next federal election.
There is little doubt the Liberals are going to great lengths to glean all the inside information they can out of Adams and Soudas and have offered Adams the opportunity to seek a nomination in Eglinton-Lawrence. They rolled out a red carpet for Adams and publicly welcomed her with open arms.
The effect that had on the Conservatives was evident as many Tory MPs and staffers were quick to lash out at their former teammate via social media or through reporters — instant and unscripted damage control at its very best.
The lasting effect of Adams' run as a Liberal may not be as rosy an outcome as she may have hoped.
She will be challenged in a campaign against the current finance minister and a change of party is not often an easy hurdle to overcome.
Adams may not win, but for the Liberal party, that is likely not the ultimate goal. As much as they hope to have her in the front row in the House following an election, the greater victory would be psychological.
The Conservatives have gone to great lengths to discredit Adams and her fiancé, but the damage is already done as she spent weeks on the inside since she made the decision to change teams.
As much as Trudeau hoped to make a splash with this news, many Liberals believe he has erred in the decision to add Adams to the team. She is controversial and somewhat of a parachute candidate and she has a long road ahead of her before she can secure any sort of retribution for the pains her former party may have caused.
Adams has no shortage of ability in attracting press, which will help. Keeping it of the positive variety will be much harder to accomplish if she hopes to represent the Liberals following the next election.