Republished from the Brandon Sun print edition April 23, 2016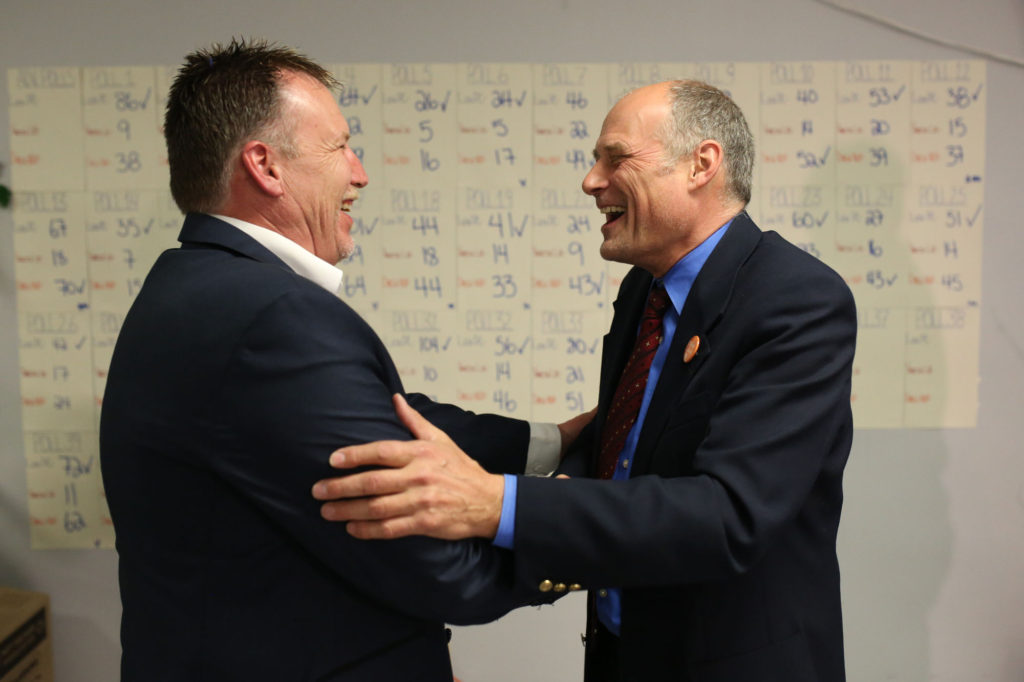 It may have taken close to five decades, but the Progressive Conservatives have finally planted their flag on what longtime NDP MLA Drew Caldwell called the "island of sanity in a sea of Tory blue."
The victory, the first of its kind in the former labour-heavy area, indicates a shift at play in what once was considered the union-dominated workers' constituency.
Tuesday's election result also effectively puts on hold the political career of its second, long-serving MLA.
I was fortunate over the past number of years to develop a friendly relationship with both the main contenders in the Brandon East battle, and the one thing I gleaned is they are far more similar than their politics may have indicated on the campaign trail.
Clay Young of CKLQ may have said it best when he asked Isleifson at a Brandon Sun/Westman Communications Group-sponsored debate whether he was a New Democrat in Conservative clothes.
It shook Isleifson up a bit at the time, but it also gave him a real opportunity to share one of his strongest suits and he capitalized.
Isleifson has a long history of work with those less fortunate, typically considered a strong NDP trait. By revealing his social conscience side, he shored up some of that fringe support — which would prove problematic for Caldwell. It was a turning point for the campaigns, as Caldwell had to work double time to differentiate himself that evening and for the rest of the campaign from his competitors.
I had the pleasure to serve with our MLA-elect on a couple of community boards and know this city will benefit from what Isleifson brings to the table. I got to know him when we shared duties on both the environment committee and Renaissance Brandon for the city between 2011 and 2014. Isleifson is whip-smart as it pertains to a number of issues and without a doubt will serve his constituents well.
He has a steep learning curve moving into his new digs, but much like the federal NDP of 2011, he is among a large handful of new politicians learning the ropes together. He also has an experienced member in Reg Helwer accompanying him to Winnipeg, so the process may not be as daunting as many first envisioned, and "Team Brandon" can get rolling rather quickly.
As for our outgoing Brandon East MLA, the city has moved on from one of the hardest-working politicians in our history.
Drew Caldwell has been the face of the constituency for close to two decades and weathered both good days and bad working with three different MLAs from two different parties in Brandon West. His style was partly retail politics but more just plain old-fashioned hard work.
Caldwell was phenomenal at connecting with residents, something that was not lost on yours truly following the 2011 provincial election. He made Brandonites feel like they were a part of his work for this community, and although he often had his detractors — like many in politics for long periods of time do — Caldwell's work speaks for itself.
Much of the investment in this community over the last two decades is as a result of Drew being Drew.
By no means should any of this detract from Isleifson's historic win, but Caldwell's loss comes down more to his party affiliation than a referendum in his work in the community.
He, like so many others, fell victim to the anti-NDP, anti-Greg Selinger wave that swept across this province. It stings, but has become a fact of political life when any party remains in power as long as the New Democrats have.
This community will miss Caldwell's involvement, but knowing Drew, I'm sure he won't be out of the loop too long.
Moving forward, there is a hope this new government will proceed with some form of moderation to serve the needs of Manitobans, and our city seems well positioned with politicians like Helwer and Isleifson to benefit from that.
Having both MLAs in government will also do plenty to push the cause of Brandon forward, the hope being to keep some of the infrastructure momentum and future projects on track.
Voters clearly indicated on Tuesday they want good governance, maintained services and continued supports for Manitobans. If the Tories can get those three right, and avoid all of the pitfalls, they may actually have a chance to again begin building a dynasty of their own in this province.