Republished from the Brandon Sun print edition April 15, 2016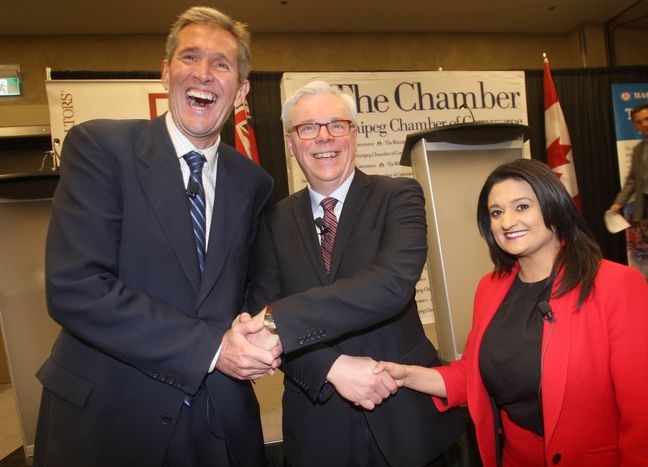 It's almost over, folks. After four weeks of campaigning and a fairly muck-filled lead-up to the big dance, the provincial election is mere days away, with candidates and leaders alike squeezing in last-minute stops in key battlegrounds.
Many a page in plenty of publications has been dedicated to dissecting this race — and going further back, even more has been said about the long-standing government of today's NDP.
NDP Leader Greg Selinger has faced more than his fair share of bumps in the road over the last couple of years and clearly it has rubbed off on his candidates, as they often seemed weary of the battle they faced on a daily basis.
As Selinger so eloquently put it, "they didn't always get it right" — and most Manitobans would have to agree with that statement.
One startling contrast, however, has come to light as this campaign has reached its culmination, and it involves our very own city.
When looking at the three parties at play in Brandon, the beleaguered NDP is the only party to commit to Brandon-specific infrastructure projects.
To be entirely fair, the Liberals did hop on the south end school bandwagon. But aside from that, few if any promises of infrastructure for Manitoba's second-largest city have been made by the front-running Progressive Conservatives.
In examining the plethora of campaign literature that arrived at nearly every Brandon doorstep, the Dippers led both the flyer drop race, as well as the drive to make Brandon-specific campaign promises.
Brandon East incumbent and longtime NDP stalwart Drew Caldwell has often spoken of his government's investment in the city, living by the mantra he is working for Brandon.
His party's literature seems to back up that statement as Caldwell's was the only one to reflect further commitment to infrastructure — and also, by no coincidence, was devoid of any mention or image of the premier.
Much like federal Brandon-Souris Conservative MP Larry Maguire's campaign, there clearly was a calculated choice to keep leader Stephen Harper out of the literature. Maguire at times during his campaign did not even mention in advertisements that he was a member of Parliament for the Conservative party.
If these are truly Caldwell's final hours at the dance, few in this community would argue that while his government may not have always been on track, Caldwell always had this city's best interests at heart.
That said, this columnist isn't prepared to eulogize his time quite yet as there is still plenty of fight in the somewhat maverick MLA, and the final days in the Brandon East race should make it one of the more exciting contests to watch come election night.
When it comes to the overarching promises, however, it seems that the NDP may have run out of time on financing futures against current debt loads.
In Tuesday evening's televised leaders debate, Tory Leader Brian Pallister mused that the NDP had made more than $600 million in spending commitments on top of its three-quarters of a $1-billion deficit. He has run on the fact that he alone can bring the province's fortunes back in line and it appears thus far to be resonating with the electorate.
On a local front, however, this could prove troublesome as so many major projects that are of great need to this community are awaiting the proverbial shovels-in-the-ground moment.
If Mr. Pallister and company do, in fact, form government next week, we can hope there is a commitment to continuing to move this community forward.
Plenty of Progressive Conservative pamphlets spoke to the policies of the government, and plans to reduce waste. But few, if any, actually addressed the growing needs we currently face in our city — infrastructure needs like a new school to serve the community, the Daly Overpass expansion, further solutions to the split campus Assiniboine Community College is currently dealing with, or on the periphery of this community, addressing the energy sector shortfalls, just to name a few.
Belt-tightening is all fair and good, and some of the points of this "government-in-waiting" make sense. But it cannot be a situation where growth and innovation are stymied to further the fiscal outlook on Broadway Avenue in Winnipeg.
Manitobans still need hope that we as a province will grow and be progressive in our thinking. In absence of that, many residents will continue to wonder what, if anything, is keeping them here.