Republished from the Brandon Sun print edition September 25, 2015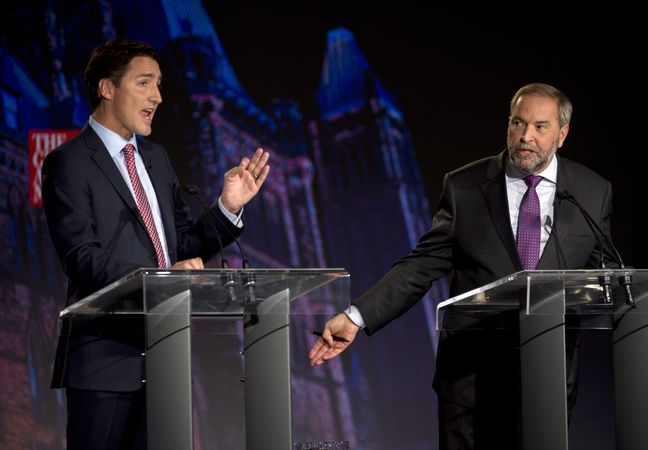 As Canadians head into the home stretch in this lengthy election campaign, both NDP Leader Tom Mulcair and Liberal Leader Justin Trudeau have drawn a line in the sand as to whether either would support Stephen Harper should his party win a minority government on Oct. 19.
"There isn't a snowball's chance in hell," Mulcair quipped about the thought of the NDP propping up Harper. Trudeau beat Mulcair to the punch with his own statement that there were "no circumstances" under which he would support Harper continuing as prime minister.
It would appear, should the Conservatives form a minority government, we are in for what could be a constitutional showdown or a swift followup second election.
With less than a month to go, the Tories continue to trail in the polls. This election has been a rough one for the prime minister, to say the very least, and as the last few weeks approach without the proverbial Hail Mary pass, Harper could be in trouble.
But he is far from out. Even though he and his party are facing slumping numbers, Harper has been crafty in the past, pulling through come election day by mobilizing his support.
Whether many Canadians want to believe it or not, there remains a very realistic shot Stephen Harper could form the slimmest of minority governments after Oct. 19. He has proven to be quite astute at keeping his party's grasp on government, and furthermore, the opportunity exists for plenty of instances of vote-splitting to burst the bubble both the Liberals and NDP have sat upon for months now.
All of this hearkens back to the position Harper was in leading up to election day in 2008.
The government was embroiled in turmoil up to and including the election. We had just come off an election a mere two years earlier with nothing much being settled between Harper minorities.
The prime minister was also facing trouble at that time due to his party's improper spending in 2006 in what became known as the "in and out" scandal. Sound familiar? The Conservatives had misrepresented funds spent on their election campaign and then subsequently "cooked the books" to hide the fact they had done so. Getting warm yet?
And lastly, Harper was beginning to become a more insular leader by this point, often avoiding the opportunities leaders in the past had taken to address matters of the country — more indicative of the prime minister we see today.
Fast-forward some seven years and the prime minister is staring down an eerily similar scenario leading up to this election.
Faced with a surge of support for the left-leaning parties, Harper could be in a position again to see an attempt to topple the government should he be successful on election night.
Back in 2008, upon winning a minority government, the prime minister underestimated the challenge to his leadership by the Bloc Québécois, a growing NDP party and the faltering Liberals under Stéphane Dion.
However, those parties erred in allowing the Conservatives to begin the matters of government without a swift non-confidence vote, quickly leading to Harper taking a "timeout" by proroguing Parliament. The act was designed to stave off the impending challenge to his government a mere six weeks following the general election.
It tied the government's hands for quite some time and allowed the prime minister a breather to get his affairs in order before challenging Canadians and the other parties to allow him to continue his reign at the top.
If this federal election spawns a similar situation, we are left to wonder whether Harper would go "to the well again" and seek to prorogue Parliament till many of their present troubles begin to go away.
That said, Gov. Gen. David Johnston may not be as open to being swayed by the prime minister as his predecessor, Michaelle Jean. Johnston's background in constitutional law may afford him the foresight to being more open to seeing a coalition of the other parties to form government.
However, if Harper can sway the Governor General, we could see history repeat itself.
Harper once famously said "Losers don't get to form coalitions."
He may end up regretting his words should he somehow hang onto power while the other two main leaders make peace and team up for what could prove to be the betterment of Canadians.