Republished from the Brandon Sun print edition October 29, 2016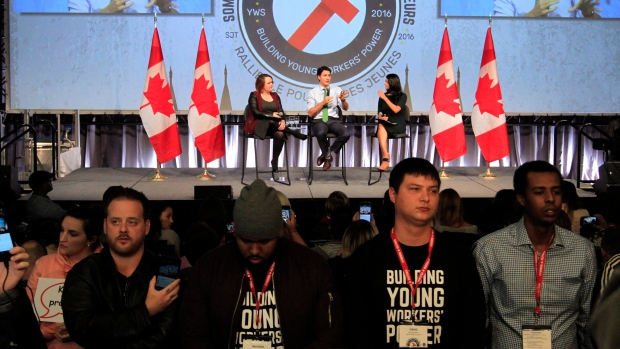 It was far from a week to remember for Justin Trudeau.
His Liberal candidate, Stan Sakamoto, was trounced by Conservative rival Glen Motz in an Alberta byelection in the riding of Medicine Hat-Cardston-Warner. Motz even took the opportunity to use his victory to take a jab at the prime minister for visiting the Gas City in support of Sakamoto.
"I would like to thank Justin Trudeau for visiting the region. The activity in our campaign absolutely spiked when he arrived," Motz quipped during his somewhat smug victory speech.
The Conservatives have long held the Medicine Hat area and not since the early 1970s has another party come close to unseating a Tory. Sakamoto gave a valiant effort, but only garnered just over 25 per cent of the vote compared to just under 70 per cent for Motz.
The following day, the prime minister was in the nation's capital to attend the Canadian Labour Congress National Young Workers' Summit. The event became a national spectacle as young protesters jeered the PM as he began to speak to the crowd.
Young people of this country have been the bread and butter of Trudeau's time as leader, but all that took a sharp turn on Tuesday as he took to the stage.
During the town hall-style forum, he was booed by the crowd with a small contingent turning their back on the PM. They did so as a symbolic gesture of their belief that the Liberals are turning their backs on the youth of this nation. Their belief is that the government has not followed through on campaign promises for a dramatic increase of available jobs, commitment to electoral reform and more encompassing dialogue on pipeline projects.
Tuesday was uncharted waters for Trudeau, and he was clearly uncomfortable fielding the backlash from protesters. A couple of times he called for a return to civility and etiquette from the crowd. Admittedly, it sounds rather "upper class" of the prime minister to ask for etiquette when the youth gathered feel trapped by a constant churn of joblessness, underemployment and unemployment that is nearly double the national average.
Trudeau must now tread carefully as he needs young voters. He and his party see them as the linchpin to a re-election bid in 2019. Inevitably, the prime minister is likely to split the votes in the baby boom generation, but when it comes to the tail end of Generation X voters and with the millennial generation, Trudeau was king in the 2015 election.
The Liberals committed $1.5 billion toward a youth job strategy during their bid for office, but they continue to fall well below their benchmarks for the creation of new opportunities for youth. The unemployment rate in Canada hovers around seven per cent, but youth face double-digit unemployment coming in closer to 14 per cent. It is a challenging time for young people in this country, and their frustration is beginning to show with actions like they undertook at the Canadian Labour Congress conference.
Education is key to closing that gap and this government must work with its provincial counterparts to ensure that investment continues to flow toward creating new and out-of-the-box opportunities for post-secondary study. Coupling that with innovation is a must as well as the Liberals look to expand opportunities for a large population working their way through the system.
To the prime minister's credit, he did stay at the summit, asking for the gathering to engage in discussion. But this does point to a troubling trend for the Liberals. In the last number of weeks, they have faced a backlash from a couple of demographic groups on what is perceived to be a failure to follow through on campaign promises, albeit only a year into their mandate.
Much like United States President Barack Obama in 2008, the Liberals took office with almost messiah-like qualities, and at the time it seemed as if Justin Trudeau could walk on water. In reality, though, governing is a much more challenging undertaking and the prime minister is reeling a bit from the sophomore jinx. Governing is more than slogans, and like Obama, slogans of hope, change and optimism can become problematic when the electorate have such high expectation.
That's not to say we as Canadians should lower our standards for our elected officials. If we expect little, then we will be forced to accept even less. And although not productive all the time, protests like last Tuesday's ruckus can turn into a positive. They show us that youth are engaged, and governments should listen before that hope and optimism slip into challenge and despair.