Republished from the Brandon Sun print edition October 21, 2016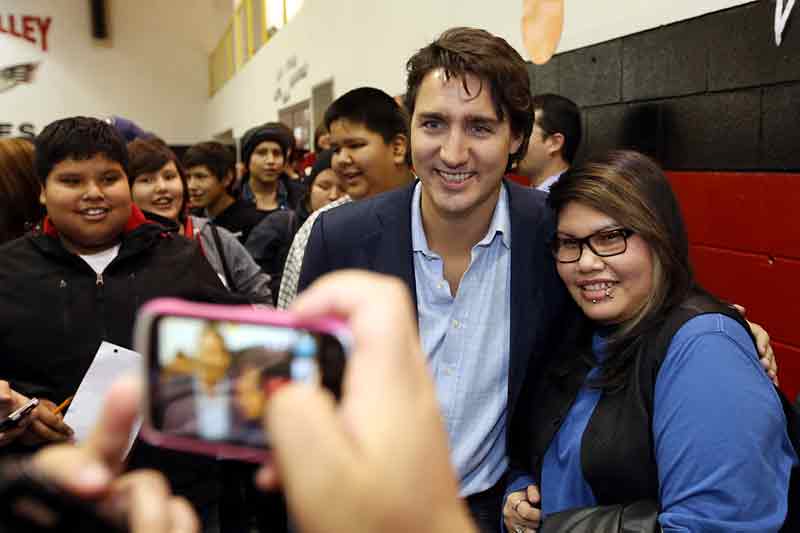 Although marked up at times over the past year, most of the way has been sunny for the Justin Trudeau-led Liberal government.
With the Grits now officially one-quarter into their term, members of the media and political pundits alike took to composing a scorecard of sorts for the government, while the government took to celebrating their paper anniversary.
They have reason to celebrate as their first year consisted of many positive moments. Gender parity in the cabinet, a revamped child tax benefit, restoring old age security eligibility to 65, work on rebuilding the Canadian image internationally, and finally real government action on an inquiry into missing and murdered indigenous women.
The Trudeau government has taken some risks and upset the established principals many felt were the calling card of the previous administration. A recent Form Research poll asked Canadians about their faith in the Trudeau government, and the result was resoundingly positive. If an election were held today, the Grits would eclipse 220 seats in Parliament, proof that the Liberal brand of governance is working.
One promise though sticks out and will need continued work long after the Trudeau government rides into the sunset. It is the most significant promise made by a government in decades and must now come with tangible action. The prime minister promised genuine dialogue and a shared vision with Canada's First Nations community.
For too long, we neglected to recognize one of the darkest chapters in our history. The residential school system represents the ultimate betrayal by the government toward First Nations people, and even though an apology for the residential school system is now eight years in the past, little tangible action has taken place on what is such a sad part of the Canadian story.
Trudeau promised during the campaign that he and his government would begin actual, meaningful dialogue, a dialogue that would include First Nations representation in many aspects of our government's decision-making process.
Take for example the Pacific Northwest LNG Pipeline project in British Columbia. The natural gas pipeline is designed to export liquefied natural gas to foreign countries at a rate of close to 20 million tonnes yearly. The project will cost Canadians $36 million and is still subject to plenty of regulatory red tape before becoming a reality. First Nations groups in the region have soundly denounced the pipeline, but find themselves in stark contrast once again to the provincial and federal governments seen as driving the project.
If we are going to indeed embark on nation to nation building, then we must not only talk with the First Nations community on how best to make shared decisions, we need to act on it. The pipeline stands as an example of what could have become that type of action led dialogue.
Talk of Trudeau's promise has crept into popular culture as well. The "Secret Path"project undertaken by Gord Downie of the Tragically Hip is one of those opportunities to open dialogue and over time create meaningful change. The Hip's terminally ill frontman gave the prime minister significant praise at his final summer concert for Trudeau's promise to mend relationships with the First Nations community, and as he put it "find out what went on up there" when referring to the northern communities of Canada. Downie's project looks at the tragic story of a residential school youth known as Chanie (Charlie) Wenjack, who died trying to find his way home from a Kingston-area facility in 1966. As Canadians prepared to celebrate our centennial, Charlie died alone by a railroad track in Ontario.
There is a frustration building among First Nations communities that the political promises made by Trudeau thus far have been largely ignored. Although only a year into his term, the prime minister has left many feeling they are dealing with same old demons governments in the past have left them to face. The prime minister was once greeted with open arms on reserves, and now in a couple of cases, he is clearly not welcome.
It is too soon to write this off as a failed promise, though. This government is only a year into its mandate and still has plenty of "fish to fry" in the coming years.
If Trudeau is hoping to continue to ride high in the polls, he must rely on more than goodwill and promises though or he may ultimately shorten the Grits' shelf life. And for the First Nations community, it is clear that the longer it takes for the government to come the table, the more likely many of those overarching promises will pass their best-before date.