Republished from the Brandon Sun print edition April 19, 2014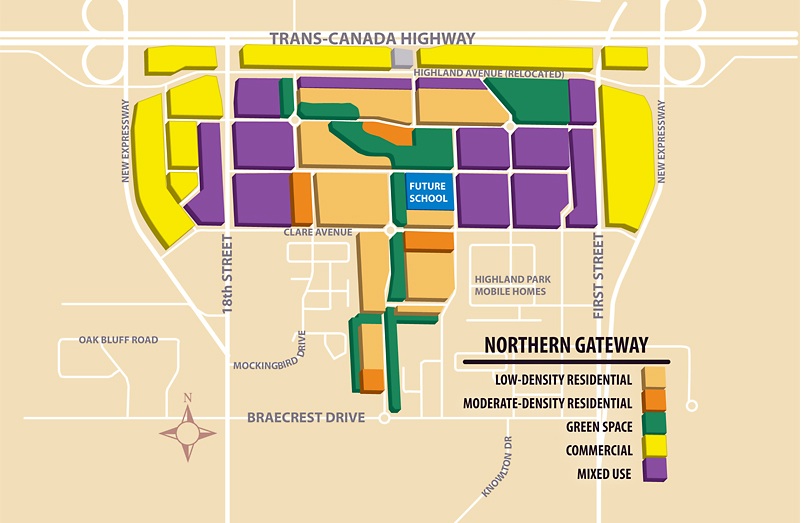 If the City of Brandon planning department and council have their say, the next 20 years in this community will be one of change, growth and a shifting landscape as both the urban design plan and Northern Gateway development mould how we are perceived as a city.
The shifting makeup will also bump the population by more than 10,000 residents if all goes according to plan.
On a value measurement scale, this is all good for business and any time you can add to the tax base it proves beneficial. It will without a doubt increase the spending power when it comes to attracting industry, residential development and opportunity, and provide a new benchmark for future generations of development in the community.
There are plenty of wins to be had if this plan comes to fruition. Although a positive, this announcement and the subsequent development does come with a tempered measurement of the potential long-term effects.
That effect is one that has weighed heavily on many communities where sprawl takes off and continues to be bolstered by civic governments and administrations. Developments like the Northern Gateway, or the developments underway in the south end will come at a price. That price, whether perceived small or large, may end up being felt in areas where a hollowing out can occur, areas like our downtown.
This isn't always the case. Many communities across the country limit boundaries growing outward in trade for a remedy for growth through the building up model in established areas. It is the type of model that if embraced as part of another long term strategy could truly benefit neighbourhoods like our downtown.
Don't get me wrong. This is not to say that the Gateway plan is a bad one, or for that matter the south-end development. They both provide a framework for future growth, but they must remain part of a larger overall strategy that includes established areas.
One of the benefits of an all-encompassing plan is that new developments, like the Gateway, increase the population potential of a community while growing around established neighbourhoods. This is something that, provided the infrastructure exists for the neighbourhood, is a tremendous windfall for any area whether it be the North Hill or elsewhere in this community.
If an influx of even 2,000 or 3,000 more residents happened in any area of this community, the challenges felt in that neighbourhood would be tremendous, but the possibilities, if met with a plan, could be huge as well.
You need look no further than the city's south end, where the number of school-age children without a neighbourhood school is putting pressure on every level of government to seek change. But in the end, if change happens, like the establishment of new schooling or a community centre, it is a benefit to the long-term vision of this city.
With that said, there is a fear that bursting out in all directions may spread the plan too thin and the city may not be able to keep up with the long-term infrastructure needs of both a south and north development.
This will without a doubt be a challenge while working to maintain growth in many of the other areas of this city — neighbourhoods that are challenged with the needs of aging infrastructure, core area developments and population distribution issues, among others.
Brandon has many areas where infrastructure and maintenance is at a crucial level and time is not really in our favour.
Both the south and north developments have varying timelines, with the south certain to complete its phased approach prior to the long-term, 20 to 30-year plan for the north. When you consider that both developments will grow in unison and require the aforementioned schools, as well as other services tagged to a civic taxpayer's property bill, it will be a generational challenge to fund and manage successfully.
City planners, like current interim head of planning Ryan Nickel, noted to the Sun this week that their priorities lie within the boundaries of the City of Brandon and would not require a great deal of annexation to complete.
It is a positive that we are working within our current framework but it is hoped that the ability exists to not spread the plans too thin and miss out on strong opportunities in one direction or the other. If both are to happen at the pace and growth level civic soothsayers say they will, then this city will be a vastly different one than it is today.
And if that growth happens even quicker than the plan suggests, Brandon will seem unrecognizable when compared to the days of yesteryear, when neighbourhoods like the downtown were a consideration for future growth and opportunity in this community.