Republished from the Brandon Sun print edition March 7, 2015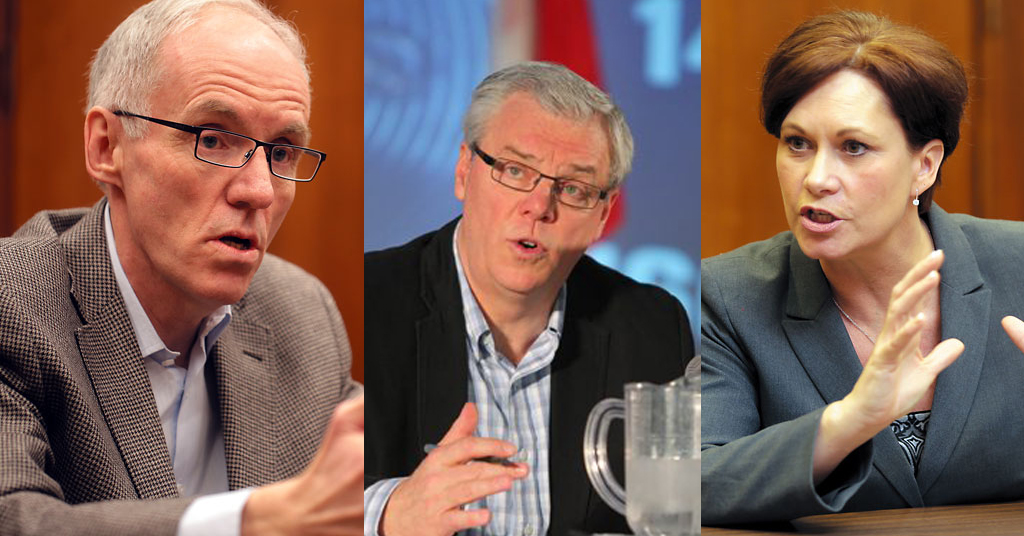 She has flirted with the idea of a run for leader before, she once was seen as the clear-cut "next in line" to the throne for the NDP and she is a smart and savvy politician.
But it all comes down to one weekend where her political future and career hang in the balance.
Clearly Theresa Oswald has the most at stake in the NDP leadership convention.
In dissecting this leadership race, Oswald has gone from what many considered a high-profile challenge to the current regime to quite possibly the first off the ballot in a scenario where it goes to a second vote to decide the next premier of Manitoba.
Oswald has won few friends in the party through her participation in the "Gang of Five" challenge — something that proves many in the NDP are loyalists almost to a fault.
As well, in taking on former cabinet minister Steve Ashton and Premier Greg Selinger, Oswald may well have relegated herself to spoiler as delegates reach for their ballots.
If Oswald is the first to be cast off the good ship mutiny, then she is likely to make an attempt to secure her own future in exchange for the precious cargo that are her delegates — something Ashton stands a better chance of acquiring as there is no love lost between Oswald and Selinger.
If that were to happen, Oswald's timing on a return to cabinet (should she be unsuccessful in her leadership bid) is good. The party is not overly deep in ministerial options, and Oswald and the Gang of Five, although having openly challenged the current regime, may be forced to eat a bit of crow in mutually agreeing to make peace in the party.
If Oswald, or Ashton for that matter, were to lose and Selinger were to stay on as premier, he almost certainly would need to reinstate Oswald and a handful of her fellow rebels to cabinet posts. The premier needs to shore up some of the holes created by their departure and from an optics standpoint it shows that there is some form of unity.
In doing this, however, Selinger would have to cast out some of his loyal subjects, proving that politics is a game not designed for the weak of constitution, where victory means more than keeping "friends in the business."
Selinger needs both Oswald and Ashton in his corner if he has even the faintest hope of continuing as premier of Manitoba.
It is Ashton who actually sits prettiest heading into the weekend. He will undoubtedly get back a cabinet post of his choice should he lose to Selinger or if off the ballot, sends his delegates the premier's way.
And if Ashton wins, then he has the opportunity to lead, something that the northern MLA has long aspired to do. Furthermore, in a hypothetical scenario where Oswald wins, he will also undoubtedly see a return to cabinet and a high-profile portfolio prior to the next election.
Lastly, for the premier should he lose, many believe he would quietly resign his post and move on from political life. For a new leader it would be distracting to have the former bench boss in the rank and file of the party as an MLA, while they try to govern and show a united front to the electorate.
Should Selinger remain on as premier, he has a yeoman's amount of work to do to make sure his party is ready for the impending electoral challenge — a challenge that once seemed far off and is now within the crosshairs of the Progressive Conservatives as well as the upstart Manitoba Liberals.
For most Manitobans, the belief was the contender who comes forth with the plan to unite the party once again would stand a serious shot at taking home the win.
The problem is, from an outsider's perspective, none of the three seems to have offered up a true plan, or for that matter shown they want (aside from paying lip service) to actually unite the party.
That unity scenario will probably see the Gang of Five return to the ministerial ranks — albeit with their tails firmly tucked — while the Selinger loyalists, despite having given their unwavering and solemn support to the leader, are likely to be standing on the outside looking in as their positions are offered up as fence-mending barter.