Republished from the Brandon Sun print edition October 8, 2016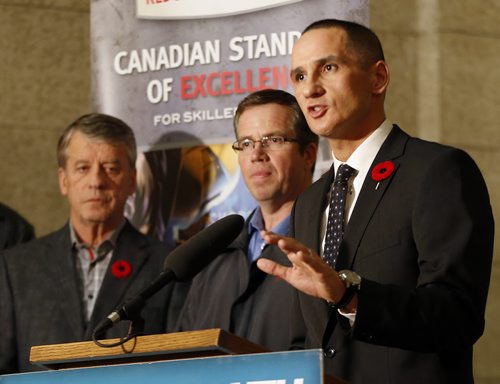 One can only imagine what the personal ad would sound like.
Wanted. One leader. Must enjoy long walks back to your balcony seat in the legislature. You must relish the thought of clamouring for someone, anyone to glance in your direction. Be prepared for plenty of long hours, for little pay and even less reward. And finally, you must embrace the fact it may be close to a decade before you can say you were successful in your post. Please apply within.
Not exactly what you would call a selling feature, even for a politician looking to take the next step in his or her career. Kevin Chief was one of those politicians who climbed that high ladder of success only to find that the view near the top was far too nauseating to stomach.
Chief, who for quite some time was considered the NDP's brightest star, decided a couple of weeks back he would not seek the leadership of the beleaguered New Democrats in Manitoba. Originally, I had a column ready to go to print that weekend on his decision. I decided against running it in an attempt to better digest the news. Especially considering many Manitobans thought he would be a shoo-in for the leadership.
After some careful reflection though, there was a much bigger reason to hit the pause button. At the time, I had hoped to see if others would now be quick to throw their hat in the ring. Would the proposed also-rans seize their opening after the Dippers chosen son decided to abdicate his elected birthright? They didn't. Kevin Chief was and still is the best the NDP have to offer.
The last time I had the opportunity to hear him speak, he had all the makings of a politician gearing up for a leadership contest. He was gathering plenty of smiling photos with local dignitaries. He spoke about youth, the future and the overall grand design for the party. And lastly, he was working the room with all the charisma and charm of another unnamed politician who rose fairly quickly to the top job in this country.
For Chief, the learning curve wasn't near as steep, and he clearly was the NDP's best chance to be noticed and accepted again in the province. With Chief officially declining where does the NDP go from here?
A couple of clear options present themselves, two of which have a direct tie to the New Democrats' past. There has been speculation with Chief out of the mix that former MLAs Steve Ashton and Theresa Oswald may again have an interest in the party leadership. For Ashton, it would represent the culmination of a considerable amount of work to hold that role within the party. He twice fell to Greg Selinger, and this may finally give him the opportunity to say he succeeded at that position.
As for Oswald, she is a long shot, but not outside the realm of possibilities. Like Ashton, she had designs on the chair, especially after leaving with a sour taste following the leadership contest in 2015. Oswald is a savvy politician, but is unlikely to have the support among those who would garner her the necessary votes. Even if she chose to run, it would not end well for the "semi-retired" politician.
The third viable option is a bit more future gazing with newly elected MLA Wab Kinew. The local author and former university professor is a smart and articulate public speaker and has already expressed interest in moving his political career forward. Although still living down some of the ghosts of his past, if Kinew chose to seek the job he has to be considered one of the top options for the party's future.
The NDP are in tough right now, as there is little cause for excitement. They are a long way off from the next election and must continue to do some forced soul-searching in an attempt to redefine who they are, and what their values represent.
For Chief, the decision ultimately was a family one. He became a father for the third time days before the NDP's decimation in the spring election, and he decided it was best to focus on working for his constituents while being a dad to his children. The party and Manitobans cannot begrudge him for wanting to refocus his energies.
But only a year out from their leadership convention, party faithful must be left wondering what could have been. Had Kevin Chief decided to challenge the Pallister Tories sooner rather than later, perhaps Manitobans could have avoided what ultimately may be another election with a forgone conclusion.