Republished from the Brandon Sun print edition October 31, 2015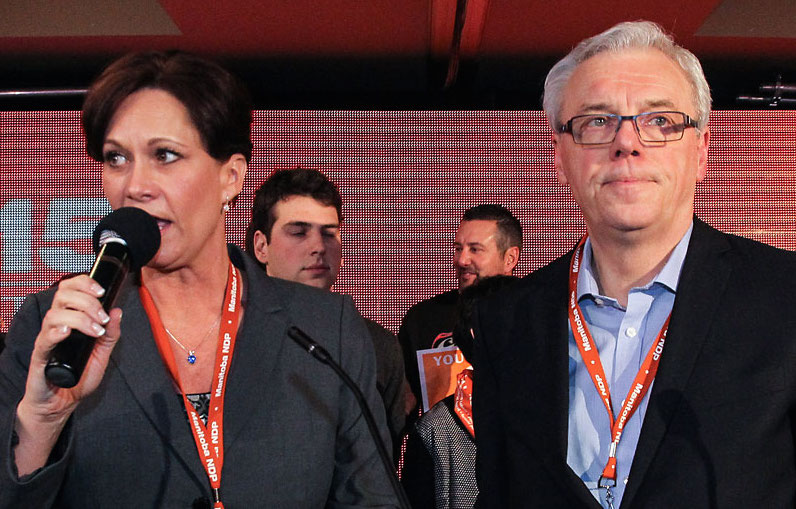 Whether it was a case of her seeing the writing on the wall or truly just wanting a change, Theresa Oswald's announcement this week that she will not seek re-election in Seine River in the 2016 provincial election does not come as a complete surprise.
Oswald joins the likes of Jim Rondeau and Stan Struthers who have indicated they will not run again. However, she will likely be the biggest former cabinet member in the Greg Selinger government to abandon ship, leaving a gaping hole in one of the NDP's safest seats.
The former teacher and school administrator turned politician showed a knack for getting elected and forwarding her government's cause. Since 2003, she served in multiple high-level portfolios, including stints as minister of health and jobs and the economy.
Oswald was a power player in provincial politics for more than a decade. She was often polarizing within her party, she was media savvy, strong-willed and a very astute politician who for the most part knew when to pick her battles.
Whether Manitobans agreed with Oswald or not, she was a trendsetter for women in politics as the province's first female minister of health and one of the longest-serving female MLAs in Manitoba's history.
And even though Oswald failed in her attempt to snag hold of the NDP leadership last March, she proved she had a skill set well suited for the role of premier — which is why speculation will continue that this is not the last time we see her in the provincial political realm.
In challenging Selinger, Oswald made a valiant and ultimately costly run at the top job. It took some bravado to attempt to unseat a sitting premier midway through a term, but she rose to the occasion.
However, she may have actually played her hand too early. If she had remained quiet a bit longer, she would have been a clear front-runner should the NDP not be successful in the 2016 election, and pressure would mount on Selinger to resign. Oswald had all the skills to be the "leader in waiting" should such a scenario have presented itself.
Her departure opens the doors wide in Seine River. The Progressive Conservatives are running Janice Morely-Lecomte, a business person with a background in counselling who was actually well positioned to challenge Oswald.
As for the Manitoba Liberals, they chose to make a splash in announcing their candidate. On the same day Oswald called it quits, the Liberals stood near the steps of the legislature to announce former Global News
anchor and parliamentary correspondent Peter Chura would run in the constituency that Oswald was vacating.
Chura is smooth with the media, polished and a clear-cut challenger for the seat. He also brings a small degree of star power to the surging Liberals. Couple that with the federal fortunes and you can see a scenario where the Liberals could actually add a seat in Seine River.
As for the outgoing minister of many talents? It is purely speculation at this point, but it is hard to believe this is the end of the political run for Oswald. In March, she came within 33 votes of becoming premier in a party leadership contest and still has plenty of support both within the party and on the periphery.
Her "Gang of Five" counterparts have often noted they "went to war" with Oswald and would continue to back her, but it would appear in the legislature, at least, their clout may be limited. This past week's announcement leaves only Andrew Swan and Jennifer Howard to move their cause forward.
Oswald joins Struthers in declining to run again, while Erin Selby vacated her seat to run for the NDP in the federal election, a seat she lost to Liberal candidate and former Winnipeg city councillor Dan Vandal.
You have to wonder, if we sit this time next year with a new government in Manitoba, whether Oswald will get the itch to run again. The NDP will be seeking answers if April doesn't go their way, and at that point, the opportunity may be ripe for Oswald to pick up where she left off back in March.
We always remember the one that got away. For Theresa Oswald, that elusive goal may very well drive her back to giving it one more shot at leading the party forward.