Republished from the Brandon Sun print edition June 3, 2016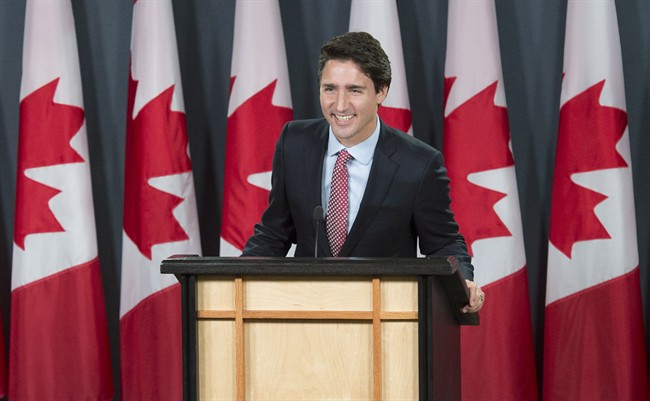 Much to the chagrin of dyed-in-the-wool Conservatives everywhere, it seems like Canadians just can't quit Justin Trudeau. Either Trudeau is on a prolonged honeymoon or this truly is a relationship built to stand the test of time.
Close to seven months after the election where the Liberals rose to power, Trudeau and his party have inched 7.2 per cent higher in a recent opinion poll. The latest numbers have pushed the party to 46.7 per cent backing nationwide and positions Trudeau at 57.9 per cent popular support.
Looking closer, there are pockets like Atlantic Canada where the Liberal government is nearing 60 per cent popularity, but overall in each province the Liberals are doing quite well in polling numbers.
Support like this may be the norm for governments with a squeaky clean reputation, but to be clear this poll comes in the wake of the government debating a somewhat poorly drafted bill to address physician-assisted suicide, Trudeau being accused of elbowing a fellow member of Parliament while physically forcing another to his seat, facing scrutiny for costs associated with travel and his family's childcare needs, and finally his somewhat public "day off" in Japan recently.
Each of these events has barely produced but a flesh wound in the armour of the crowd-pleasing and camera friendly leader, causing many to liken his ability to deflect criticism to Teflon — nothing sticks.
Every time he has been challenged thus far Trudeau seems to emerge unscathed while his counterparts like NDP Leader Tom Mulcair come out looking dated, angry and out of touch with Canadians.
As Trudeau arrived this past weekend for the Liberal convention in Winnipeg, he entered the room to chants and cheers of his name, music, lights and banners. He was for lack of a better term the pop star of Canadian politics. It was calculated and made to look casual as Trudeau took to stage, sleeves rolled up, tie loosened and at ease with his message. He cracked jokes, mocked his opposition and engaged with a captive audience hanging on his every word.
The reach stemmed far beyond that room though as unlike most conventions before, Canadians could stream large swaths of it on their smartphones or computers through the party's multiple social media feeds. Trudeau and his team have harnessed this level of political awareness to a near masterful stage and it may be the reason for some of his popularity. They have changed the way Canadians consume their politics and the parties in opposition are frustrated, clunky and clearly behind the times on it.
A prime example of that social media effect was on display in bright colours Wednesday afternoon. Trudeau and fellow Liberal MP Randy Boissonnault stood on Parliament Hill to officially raise the Pride flag, kicking off festivities across the nation. It was a smaller ceremony with MPs flanking Trudeau along with members of the House behind the stage. Boissonnault, an openly gay MP from Alberta, used most of his time to champion Trudeau as a leader poised to embrace the LGBT community in this country.
Boissonnault wasn't just paying lip service, though; the prime minister's actions have backed up that fact. In the short ceremony that followed, the viewership on Trudeau's social media feed eclipsed 10,000 viewers and throngs of pro-Trudeau supporters attacked any instance of negative trolling in the comments section.
The prime minister went a step further by sharing with the audience his thanks for the support the party had received from his political opposition in making the day a reality. By co-opting their ability to criticize, he effectively silences his naysayers.
It may not be "old school" politics like so many Canadians rail against, but with this approach Trudeau was able to win the Liberal leadership and the federal election. It keeps his messaging in the press and even though he and his government have already had their fair share of bumps, it allows his supporters, and not the opposition the opportunity to write the headlines. It is calculated and it is tremendously effective.
As the opposition move further away from their current leadership, they need to prove they are learning a lesson right now. Canadians are responding well to what the "big tent" style Liberal government is doing and it is coming at the expense of their own numbers.
By Trudeau actively trying to include as many Canadians as possible under the Liberal banner, the question is whether there will be enough meat on the bone for the rest moving forward.